Great Ideas Come From Everywhere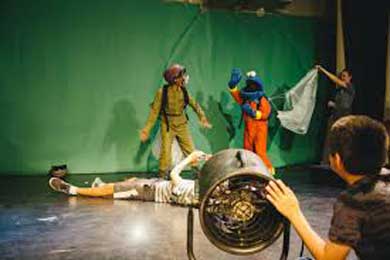 The factory of the information age is the human mind. Yet the average person uses less than one-tenth of one percent of his brain power. "We now know that breakthrough ideas come from the integration of logic and imagination–the merging of left brain (analytical, convergent) and right brain (creative, divergent) thinking," says Chic Thompson, author of What a Great Idea! (Harper Collins). "We can transform our minds into idea-generating powerhouses if we learn to operate them a peak efficiency." Innate convergent thinkers often find that their linear approach is too limiting. They get stuck on the root of an idea and find it difficult to branch out. Naturally divergent thinkers pop out plenty of ideas but find it difficult to backtrack, focus, and bring a single concept to full development. By gaining a better understanding of how the mind works and using techniques that stimulate your creative and problem-solving abilities, you can groom your thought bank into a great idea-generating machine.
Identifying a Problem Before You Create a Solution
"It just hit me" is the explanation most people give when asked where their great ideas come from. Serendipity, it seems. Yet closer examination reveals that "the best ideas start with a passion to solve the specific problem or find an answer to a burning question," says Thompson. Simply asking yourself the right questions is a launching pad to problem solving. The world changed forever when the first nomad stopped asking, "How do we get to water?" and asked instead, "How can we get the water to come to us?"
It was sheer frustration that led Philip Payne of Edmonds, Washington, on a quest for a solution that would eventually evolve into a fruitful business. Twenty years ago, Payne was a Cambridge University student typing his doctoral dissertation on an IBM Selectric. "Much of my research was in Hebrew and Greek," he recalls. "It was an extremely painful process because I had to leave blank spaces, then go back and hand-write the foreign lettering. I realized the need for a system that could handle both Roman and non-Roman scripts." He often thought about writing a book based upon his research, but he was hindered because there was no software that handled English, Hebrew, and Greek. "The minute I saw the Macintosh WYSIWYG interface, I knew I'd found my answer," says Payne. "I studied the internal architecture and learned how to create my own fonts. Within a month, I was printing documents in Greek."
Payne was so elated with his discovery, he wrote a letter to a computer magazine. The editor wanted to run an article on his product line. Caught off-guard, Payne invented a company name on the spot: Linguist's Software. After the article was published in the September 1984 issue, Payne's phone started ringing off the hook. He also received dozens of special development requests, including programs for Russian, Hungarian, and Chinese. Payne now offers a catalog that contains more than 200 different language programs available in Mac and Windows versions. "We hope to sell $600,000 worth of products this year," he says.
If you want to generate great ideas, "Ready, Fire, Aim" should be your motto. Clearly identify the problem by asking the right questions (Ready). Throw out dozens–even hundreds–of possible solutions, from wacky to wonderful, from silly to sublime (Fire). At least one of these ideas is bound to be good (Aim). The notebooks of geniuses like Leonardo da Vinci and Albert Einstein are filled with scribbles, doodles, and unconnected thoughts–all evidence of a vigorous Fire stage.
Where to Find Fuel for Thought Ideas to fuel the Fire state can be so simple that people often overlook or dismiss them. "Fuel for great ideas lurks everywhere," says Bill Shephard, director of programs for the Creative Education Foundation in Buffalo, New York, a non-profit organization founded by the father of modern-day brainstorming, Alex Osborn, and dedicated to nurturing creativity, innovation, and problem solving. "Newspapers, magazines, and books are filled with idea fodder. So is nature and recreation. Children are infinitely creative and can often spark new ideas." He cites a case in point. "When Edwin Land took a picture of his young daughter playing at the beach, she asked when she could see it. Land replied that the film had to be developed first. His daughter asked, 'Why can't we see the picture now?' That picture inspired Land to invent the instant photography technology for the Polaroid Land camera," says Shephard.
Summoning the carefree child within us can also fuel ideas. For example, Barry and Susan Brooks wanted to start a business, but they needed to choose a field where they would truly enjoy and have fun with their work. They wondered about professions for several months until one day in 1977, sitting at the kitchen table, Susan asked, "What do we enjoy doing together?" The seed for an idea was planted and Barry shouted, "Cookies!" Each year they had a blast baking holiday cookies using old family recipes. Their cookie-filled tin cans were always a big hit.
Bankers, however, laughed at their plan. And they were left with no option but to sell their home to open a retail cookie shop, which turned out to be an instant success. By 1978, they had 12 franchises up and down the Southeast Coast. But after encountering major problems with quality control, they decided to disassociate themselves from the company.
The couple moved to Tempe, Arizona, to start over. They still wanted to sell cookies but not only through a retail store. "There were plenty of options, such as grocery stores, warehouse clubs, and gourmet shops. But we were looking for a unique niche," says Barry. That's when the second idea hit. One day a friend of Susan's asked if the pair would bake cookies that her husband, a prominent surgeon, could give as holiday gifts to patients, and colleagues. "Even as we talked, the idea began to click," recalls Susan. "Surely, there were lots of professionals and executives who would like to give homemade cookies as gifts." Indeed there were.
Today, Cookies From Home sells 80 percent of its product to corporations and professionals. Each order is customized with the corporation's name and logo oin the tin, packaging, and inner wrappings. For Valentine's Day, Psicor, a medical supply company in San Diego, California, placed an order for more than $25,000. "We packaged the cookies in Psicor's surgical containers and sent them to 800 of its customers. They were delighted to discover not needles and rubber gloves but chocolate-chip cookies. The promotion was a huge success," adds Susan. The Brooks now have 30 employees and projected sales for 1994 are $1.5 million.
Create a Brain-Nourishing Environment
Although the eureka factor worked well for the Brooks, it isn't necessarily a dependable means for producing great ideas. Creating an idea-inspiring atmosphere, however, fosters the right frame of mind for the consistent development of innovative concepts.
"Unfortunately, many people take the wrong approach when decorating their home offices," says Michael J. Gelb, founder of High Performance Learning Inc., which offers creativity-boosting resources, including books, audiotapes, and seminars. "They create the same dull, stark environment that's been stifling corporate creativity for years." Gelb suggests replacing fluorescent lights with halogen, incandescent, or natural light. He also swears by his hammock and the 10-minute brain breaks he takes regularly.
Gelb was created what he calls a "brain-nourishing environment" in his Great Falls, Virginia, home office. "I have a large dry-erase board and scores of magic markers for mapping out projects or things to do. I've realized that the mind remembers in images, not words, so I create drawings of anything I need to recall."
Gelb's office is filled with flowers, plants, books, stimulating artwork, colorful carpeting, decorator accents, and even a set of juggling balls. "Nothing balances the brain like juggling," he insists. His window offers a picturesque view of a wooded area and he fills the air with classical music. "Everywhere I look, I see something that inspires and energizes me," says Gelb.
Even so, Gelb's great ideas don't always come when sitting in his office. "Like most people, I get my ideas when I'm not trying too hard. The trick is to write them down immediately, so they're not lost," he says. To that end, Gelb stocks notebooks and microcassette recorders where his best ideas usually strike: by his bedside, in the car, and, yes, in the bathroom.
According to research conducted by Thompson, the top 10 idea-generating times are when you're:
1. sitting on the toilet,
2. showering or shaving (Note: Albert Einstein said: "Make friends with your shower. If inspired to sing, maybe the song has an idea in it for your."),
4. falling asleep or waking up,
8. waking in the middle of the night,
9. listening to a church sermon,
10. performing manual labor.
Dr. Yoshiro NakaMats, inventor of the floppy disk and owner of 2,300 patents (more than double the number held by Thomas Edison), comes up with his best ideas while swimming. He frequents a local hotel that has a pool. "I have a special way of holding my breath and swimming underwater–that's when I come up with my best ideas. I've created a Plexiglas writing pad so that I can stay underwater and record these ideas."
NakaMats has also designed two rooms (totaling 300 square feet) in his Tokyo home, where he goes for inspiration. His static rook is a place of piece and quiet. "I only have natural things in here: a rock garden, natural running water, plants, a five-ton boulder from Kyoto," he says. "I go into the room to free-associate." His dynamic room is dark, with black-and-white-striped walls, leather furniture, and special audio and video equipment. He starts by listening to jazz and always end with Beethoven's Fifth Symphony.
Conduct Collective-Thinking Sessions
In addition to Gelb's brain-nourishing home office, he also calls on a group of creative-thinking colleagues. "Most ideas come when you're alone, which is a great advantage for those of us who work at home," he says. "You can't get to that phase, however, until you've worked through the preparation and generation stages. And for those steps, a group effort often works extremely well."
Gelb's brainstorming participants include people from related fields and even several from entirely different professions. "That way, I get both a reality check from the experts and a fresh perspective from the unjaded." Such brain teams can meet in person, over the phone, or even onlin (see "Creative Resources" for a list of organizations devoted to promoting creative thinking).
Break From Tradition
Even the most adept creative thinkers can succumb to the dreaded mental block. And the phrase "that's the way we've always done it" is the most prominent symptom of this type of imagination suppression. The key to unlocking new doors is to eliminate this creativity-squelching chant.
When Ed Pankau, of Houston, Texas, entered the private investigation business in 1973, his gumshoe technique was wearing thin. "There's got to be an easier way," he would mumble as he traipsed around town searching out information for clients.
One day an attorney hired him to complete several hundred investigations within 60 days. "The government had closed six banks, so they put me on the trail of any debtors with assets worth chasing," he recalls. Pankau knew the information he needed was available in public records; the question was how to get rapid, around-the-clock access to it.
"Would the government sell me the public records I needed on microfiche?" he wondered. Apparently no one had ever asked before, but the county clerk was willing. Pankau not only discovered a lucrative business, but he also invented a new industry. Today, thousands of people use the methodologies he developed to retrieve information online.
Pankau's there's-got-to-be-a-better-way philosophy paid off with another great idea in 1985. When his hairstylist informed him that she was planning on closing shop and investing her life savings in a business venture with a new boyfriend, Pankau was concerned. "Let me check the public records and see what turns up on him," he suggested. It turns out that lover boy had several wibes and a lengthy prison record. After the salon owner told friends and customers what Pankau had uncovered, scores of single women began calling him to check out their new beaus.
When Pankau mentioned to a reporter from The New York Times that "women are checking out boyfriends like bankers check out buyers," the story made front-page news. Within days, he had received invitations to appear on Donahue, Geraldo, and Larry King Live. Pankau had unwittingly launched yet another industry. Today, computerized character checks on prospective mates are de rigueur and Pankau's company, Intertect Inc., grossed $2 million dollars in 1993.
It Won't Fly, If You Don't Try Whether you have a fleeting notion or a product concept or a fluke–until you put it out for all the world to see. As Alex Osborn has said, "A fair idea to use is much better than a great idea kept on the polishing wheel." Plunge boldly into the arena of ideas, and you just might come out a winner.
Posted: August 11th, 2015 under Business.

Comments
Write a comment